Philips AVENT Fast Bottle Warmer - 快速奶瓶加熱器
Our fastest electric bottle warmer
Quickly and evenly warms your milk
Warms evenly, no hot spots

Warms quickly

Gentle defrosting

Warms baby food too
Warms baby bottles in 3 minutes
The bottle warmer will warm 150ml/5oz of milk in just 3 minutes*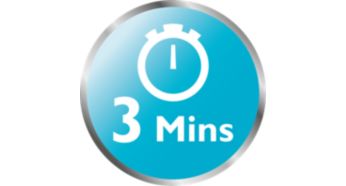 Warms quickly and evenly
The bottle warmer warms quickly and evenly. By circulating the milk continuously as it warms, hot spots are also prevented.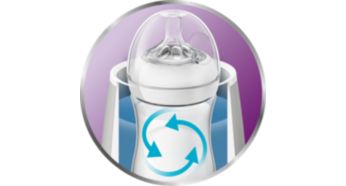 Gentle defrost setting for baby bottles
The bottle warmer features a handy defrost setting. Safer than defrosting in a microwave and more convenient than using water, simply select the setting to defrost frozen milk or baby food to liquid.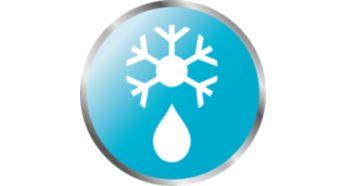 Use to warm baby food too
As well as baby bottles, you can also use the bottle warmer to gently and evenly warm baby food.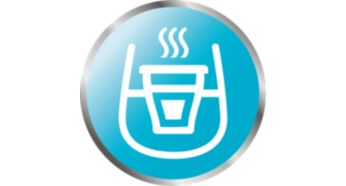 Compatible with Philips Avent bottles and containers
The bottle warmer is fully compatible with all Philips Avent bottles and containers*. Use it to warm bottles and baby food containers conveniently.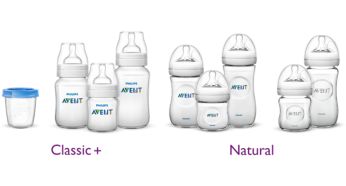 Easy to operate with helpful warming guide
Simply turn the knob to switch the baby bottle warmer on and select your warming setting. The bottle warmer comes with a helpful warming reference table so you can easily work out how long the warming will take.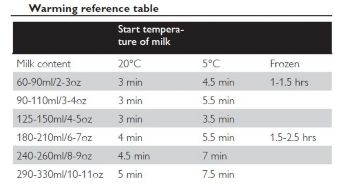 Keep your milk warm
Milk or baby food is warmed at a slow pace, it will be kept warm at the right temperature and be ready when you need it.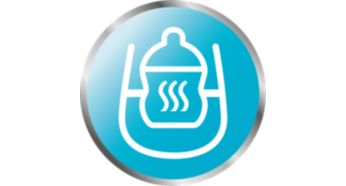 Technical Specifications
Weight and dimensions
Product dimensions (WxHxD) : 160.4 x 139.9 x 148.55 mm
Retail pack dimensions (WxHxD) : 175 x 185 x 160 mm
Country of origin
Designed in : Europe
Produced in : China
What is included
Bottle warmer : 1 pc
Product Material
ABS : Yes
PP : Yes
Techincial specifications
Power consumption : 300W
Voltage : 220-240V, 50/60Hz
Safety Classification : Class 1
Philips AVENT快速奶瓶加熱器
我們最快的電子奶瓶加熱器
快速均勻地加熱
均勻加熱,不會形成熱點

快速加熱

溫和解凍

也可為嬰兒食品加熱
3 分鐘即可為嬰兒奶瓶加熱
3 分鐘即可為嬰兒奶瓶加熱 奶瓶加熱器只需 3 分鐘就可為 150 毫升/5 安士的奶加熱*

快速均勻加熱
奶瓶加熱器可以快速均勻地加熱奶瓶。加熱時保持乳汁流動,防止形成熱點。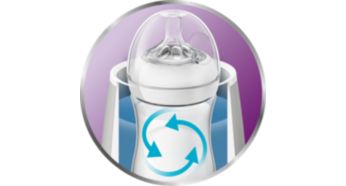 適合嬰兒奶瓶的溫和解凍設定
奶瓶加熱器設有方便的解凍設定。比用微波爐解凍更安全,比使用水解凍更方便,只需選擇設定將冰凍的乳汁或嬰兒食品轉回液體。

奶瓶加熱器也可為嬰兒食品加熱
奶瓶加熱器除了可以加熱奶瓶,也溫和地加熱嬰兒食品。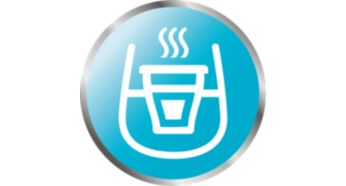 兼容 Philips Avent 奶瓶及容器
奶瓶加熱器完全兼容所有 Philips Avent 奶瓶及容器*。可以方便地加熱奶瓶及嬰兒食品容器。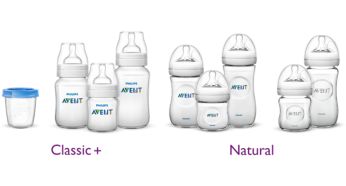 附有實用加熱指南,容易操作
只需扭動旋鈕,開啟奶瓶加熱器並選擇加熱設定。奶瓶加熱器附有一個實用的加熱參考表,您就可以輕鬆知道加熱所需的時間。

保持乳汁溫熱
加熱器可緩慢加熱乳汁或嬰兒食品,並保持在適當溫度,以供您需要時使用。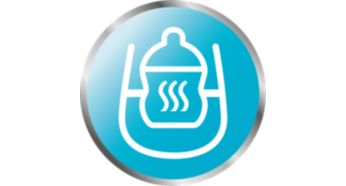 技術規格
重量與尺寸
產品尺寸 (寬x高x深) : 160.4 x 139.9 x 148.55 毫米
零售包裝尺寸 (寬x高x深) : 175 x 185 x 160 毫米
原產地
設計於 : 歐洲
生產於 : 中國
包含物件
奶瓶加熱器 : 1 件數
產品材料
ABS : 是
PP : 是
技術規格
功率 : 300 瓦
電壓 : 220-240 V, 50/60 Hz
安全級別 : 1 級
2-Year Warranty : This product is warrated against defects in workmanship and material for a period of two years. The 2-year warranty period is calculated from the date of purchase of the Product.